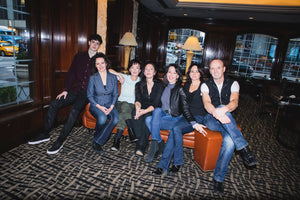 New Music
Canadian group Leahy has secured a place as one of the country's most highly regarded progressive folk-roots bands. The Platinum selling, JUNO Award-winning group are revving up once again, with a new studio album coming in February 2021. The group's five female siblings come forward showcasing their songwriting, vocal and instrumental abilities, and a new, young Leahy is introduced to the touring roster: Xavier, Frank's (drums) eldest son, revealing a contemporary version of the original Leahy sound with the addition of electric guitar and accordion to their arsenal of instruments. Along with the help of Grammy Award-winning producer, (and fellow Canadian), David Bottrill (Peter Gabriel, Afro Celt Sound System), the new music is the band's most ambitious recording project to date.
Signup to receive our newsletter
Promotions, new products and sales. Directly to your inbox.